Wasim Sajjad is a Pakistani conservative politician and lawyer who served as the acting President of Pakistan for two non-consecutive terms and as the Chairman of the Senate between 1988 and 1999.
Born in Jalandhar, British India, Sajjad's father went on to serve on Supreme Court. Sajjad studied at the Army Burn Hall before moving to Lahore where he studied law at the Punjab University. As a Rhodes Scholar, he moved to Oxfordshire, where he received his Bachelor of Civil Law followed by a graduate degree in Jurisprudence from the Wadham College, Oxford in 1967. He was called to the Bar at the Inner Temple in 1968. On return to Pakistan, Sajjad was admitted as a lawyer in Pakistan and joined the Punjab Law College where he taught constitutional law between 1967 and 1977.
Sajjad was elected as to the Senate in 1985 as a member of the center-right Muslim League and served as the Minister for Law and Justice from September 1986 to December 1988, until December 1988 when he was elected as Chairman of the Senate where he remained until 1997. During which he was elevated to the presidency twice during the general elections. In 1999, Sajjad joined a defecting group that supported General Musharraf's coup and became the Leader of the House in the Senate of Pakistan in 2003, remaining until his political retirement in 2008. After retiring from the politics, he has been serving as chancellor of the National University.
Political career and President of Pakistan
In 2002, Sajjad was accused of mis-use of government vehicles and phones, amounting to millions of rupees. He was ordered to pay a fine, but served no time in jail.
Political positions
He once again became the President of Pakistan from December 1997 to January 1998. He served as the Leader of the House in the Senate of Pakistan from March 2003 to March 2008.
Wasim Sajjad honoured; Rhodes Trust portrait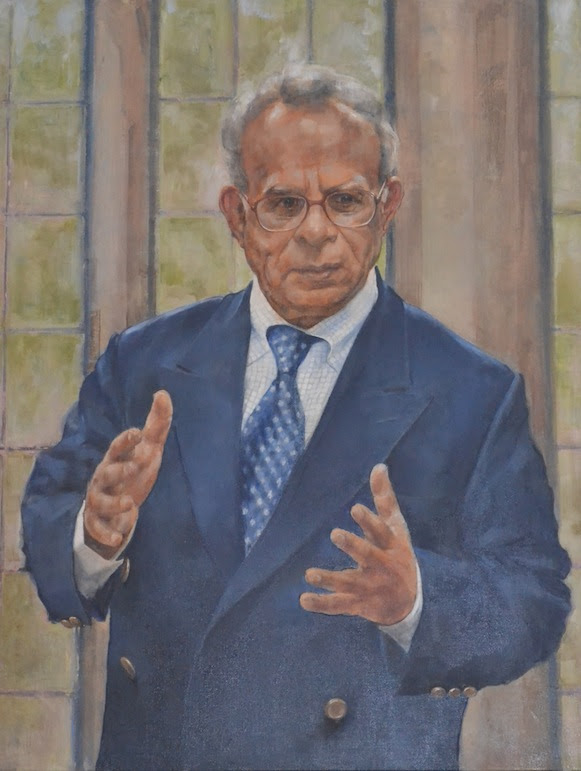 The Rhodes Trust have commissioned a portrait through the Royal Society of Portrait Painters in order to honour Wasim Sajjad's contribution both to The Rhodes Trust and to Pakistan.
They selected the artist Anthony Connolly RP from among the portfolio of possible artists to create this portrait.
The Rhodes Trust supports Scholars, selected from around the world, in order to study at the University of Oxford. The Scholarships' aim was to educate international young leaders who were committed to public service at the University of Oxford.
Wasim Sajjad. Sajjad himself a Rhodes Scholar, was the National Secretary to the Rhodes Trust for Pakistan for many years. He was the longest-serving Chairman of the Senate of Pakistan, and twice President of Pakistan.